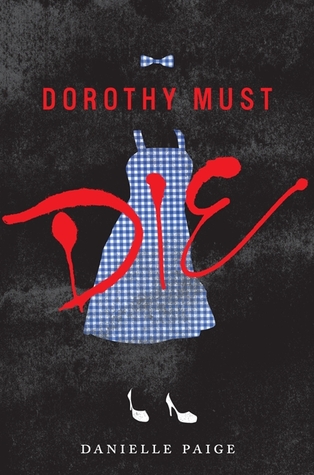 Goodreads | Author 
I didn't ask for any of this. I didn't ask to be some kind of hero.

But when your whole life gets swept up by a tornado – taking you with it – you have no choice but to go along, you know?

Sure, I've read the books. I've seen the movies. I know the song about the rainbow and the happy little bluebirds. But I never expected Oz to look like this. To be a place where Good Witches can't be trusted, Wicked Witches may just be the good guys, and winged monkeys can be executed for acts of rebellion. There's still a yellow brick road – but even that's crumbling.

What happened? Dorothy.

They say she found a way to come back to Oz. They say she seized power and the power went to her head. And now no one is safe.

My name is Amy Gumm – and I'm the other girl from Kansas.

I've been recruited by the Revolutionary Order of the Wicked.

I've been trained to fight.

And I have a mission.
My thoughts in one picture:
Oh Dorothy Must Die, you started off so well with you being a dark, twisted retelling of Wizard of Oz and descriptions so vivid I kind of wished I was in the book. I was even willing to overlook how annoying Amy was but no, it was not meant to be.
Do you ever get this feeling when you're reading a book that you've read this before? Dorothy Must Die was like that… but at the same time not. I can pinpoint exactly what I hated so much about this book which doesn't happen often. I'm really torn about this book because it's got such a great world and an amazing concept but the main characters just made me so angry.
Amy Gumm is not special at all in book terms. It's like she was written by someone holding a checklist all like "Ok so bad parents, check. Angst from troubled childhood, check. Is a giant ass screw the system person, check. Has some weird coloured hair, check". HOW MUCH MORE TROPE CAN YOU SHOVE INTO A SINGLE CHARACTER??
"No one does this right away, not even me," Nox said quietly. "You have power"
Oh yeah, I forgot about the special one trope. It's not like it's shoved into my throat every second book.
The romance was really sad and I don't mean sad like in The Fault in Our Stars, I mean sad because it should've had so much more. I don't normally mind instalove but in Dorothy it's freaking crazy. Amy and Nox literally don't even talk more than a couple of sentences and suddenly, they're a couple. There was no chemistry, no romantic buildup just a makeover. A literal spit take scene included. It's also worth mentioning that this is the bar for most of the character development in the book. We meet the character, we get a few lines out of them and then they're killed off because who knows and who cares 😀
If that wasn't enough disappointment, [spoiler]AMY FUCKING SCREWS UP AND DOROTHY DOESN'T DIE. THE BOOK IS FUCKING CALLED DOROTHY MUST DIE, SO WHY DOESN'T SHE???? [end spoiler] It made the ending so anticlimatic and it was pretty funny how much shit went down in the last chapter. It was as if it was a setup for the sequel…
Sidenote: I got around to researching it and turns out it might be picked up by CW. I was not surprised. Dorothy is very CW material, by that I mean it just emanates YA from its pores.
TL;DR: Basically, good world building does not work when inhabited by shitty characters
---
So have you read Dorothy Must Die? What were your thoughts (especially on that stupid ending)? By the way, is the sequel any good because I want to know what happens but I honestly don't think I can stand another book of Amy. Anyways, let me know 😀