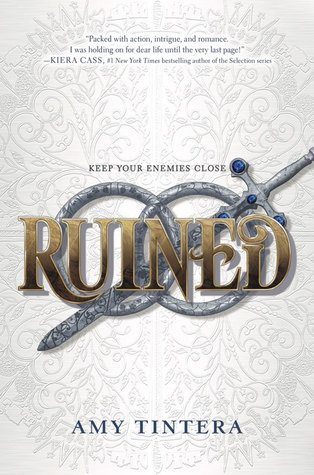 Publication Date: 3rd May 2016
A revenge that will consume her. A love that will ruin her.

Emelina Flores has nothing. Her home in Ruina has been ravaged by war. She lacks the powers of her fellow Ruined. Worst of all, she witnessed her parents' brutal murders and watched helplessly as her sister, Olivia, was kidnapped.

But because Em has nothing, she has nothing to lose. Driven by a blind desire for revenge, Em sets off on a dangerous journey to the enemy kingdom of Lera. Somewhere within Lera's borders, Em hopes to find Olivia. But in order to find her, Em must infiltrate the royal family.

In a brilliant, elaborate plan of deception and murder, Em marries Prince Casimir, next in line to take Lera's throne. If anyone in Lera discovers Em is not Casimir's true betrothed, Em will be executed on the spot. But it's the only way to salvage Em's kingdom and what is left of her family.

Em is determined to succeed, but the closer she gets to the prince, the more she questions her mission. Em's rage-filled heart begins to soften. But with her life—and her family—on the line, love could be Em's deadliest mistake
I knew I would love this book after 5 pages in when we get our first death. Any book that starts with the protagonist killing someone can't be anything less than excellent.
The book came in the mail right before my exams so like any sane person, I was happy to be distracted. I just didn't realise how addictive this book would be and devoured it in 2 days. I've seen a lot of reviews saying "Ruined is just basically -insert another fantasy story here-" but to me it had a perfect balance of all the fantasy stories I've read. It's not the most original plot but it's so, so enjoyable.
The revenge plot plus the impostering was so much better than I thought it would be. It was suspenseful and the conflicts that it created within Em was just excellent. I liked how by going through with pretending to be the princess, we get to experience the other side of the story in a way. I'm sure we'll all hate Lera in the next books but it was fascinating to see the kingdom's systems and views.
The book touches on the topic of convicting criminals before they even commit crime and that was a really interesting topic, it's not one that you commonly see in YA. A lot of plots focus a lot on oppression or dictatorship but not this book. The Ruined are exiled for the crimes of Em's mother but as individuals, they're not all bad. The author does shape them to be very scary though, their abilities are so strong and honestly I understand the King's mentality. It's a book that will make you rethink your own opinions. 
Ok onto the fangirling. I love Em. Her determination is inspiring and her fighting skills… well she kills the princess in the first 5 pages so XD She's such a strong character that I'm really excited to read about in the next books. Ruined actually has a lot of powerful female characters both good and bad but its not overdone. Then we have to talk about Cas who really gave me strong Dorian vibes, more to do with just being a prince in a fantasy YA novel than anything else. I really enjoyed reading about him too, he had these really good sarcastic lines that added that touch of humour that Ruined needed.
The only complaint I do have about this book is that I need to know more about the Ruined, about what they are fully capable of, their kingdom, their history – actually the history is hinted but not explored that much. Maybe in the next book?
Verdict: A very typical fantasy novel but it works it to its strengths.
So have you read Ruined or are you planning to?