There are 2 things that I can't resist:
Ice cream
Dramas recommended for ages 5 and up
So yesterday while I satisfied my need for the first, I decided to watch Free Rein on Netflix. It was recommended to me by Netflix because I'm in the middle of Backstage (which I'll talk about once I've finished the first season!) and I totally get why: both are really teenage-y in the best possible way.
In Free Rein, Zoey, an American girl, has gone to an island off the coast of Britain (I think?) to visit her grandfather with her mum and little sister, Rosie. During her stay on the island, Zoey runs across a horse and she forms a deep bond with it. I know, I know, sounds really cheesy but trust me it kind of works!
First Impressions:
Because it was a recommendation from watching Backstage, I kind of knew what kind of show it would be: a feel good show with teen angst over friends and boys. Knowing my trash tastes and since I was really bored, I decided to click it.
The first thing I saw about this show was this picture:
Does this not scream The Vampire Diaries: The Country Edition?? The pale faces, the stern-ish poses… I laughed at this photo for at least 30 seconds. It's got the typical teen drama poster design right to the slighly bent knees.
After the Binge:
I'm still laughing at the photo but I'm also kind of obsessed.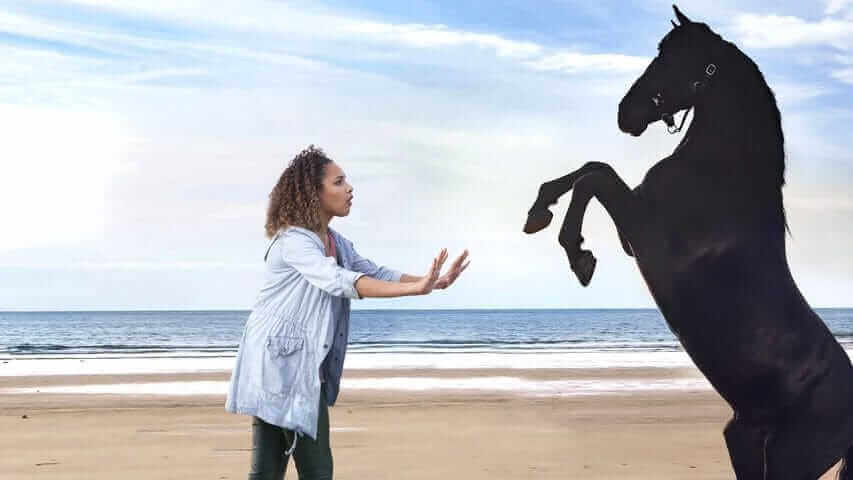 Let me just start off by saying that yes, it is cliched. The best way to describe it is that it's Wild Child with horses. Just look at the characters! There's Zoey who finds her special "thing" in riding, just like Poppy does in lacrosse. We get Rosie, the LA girl forced to live in countryside Britain, a fish out of water, just like Poppy. There's the mean girl/bully/head of the yard Mia who's Free Rein's Harriet and of course, we have the perfect, unattainable boy who's into the main girl because she's "different" and not like the other swooning girls. Yes, the show is filled with tropes but to the actors' and scriptwriters' credit, I still feel like the show is fresh and new.
The show's plot is probably what brings it down the most for me. The first season revolves around a plot about horse thieves but it places a strong focus on the relationships between the characters. By focusing so much on emotions and relationships, Free Rein really needs its actors to be good. Even though they handle the tropes well, in the plot the characters are annoying or just don't make any sense in some scenes. Acting wise, the show is great when it's all fun and loud but there are some moments where the emotions really don't hit. The quiet, meaningful moments often just feel rushed. This has more to do with the writing and it's especially apparent in the ending of Pony Prom. That scene in the rain is great but then it's totally contradicted in the finale.
Even though the whole show is really predictable (except for that final reveal), I strangely enjoyed it. There's something about the fish out of water who finds their place that really hooked me into Free Rein. I got really into the yard politics and the quirky friendships. I even kind of enjoyed the "special bond" aspect of the show which is saying something because it's a stretch from reality.
Fangirl Sidenotes:
A+ cinematography and location IT'S SO DAMN PRETTY!
To anyone else who's seen it, where do you stand on the love triangle? I kind of thought there wasn't really one until the last episode and then WTF WHY WOULD SHE CHOOSE HIM? Literally it was the biggest plot twist.
Rosie is the most precious little girl. I love when they have kids acting like divas. 10/10
All in all, Free Rein isn't a terrible show. I mean, while I did start watching it ironically I did end up grudgingly liking it.
Have you seen Free Rein? What are your thoughts on it?