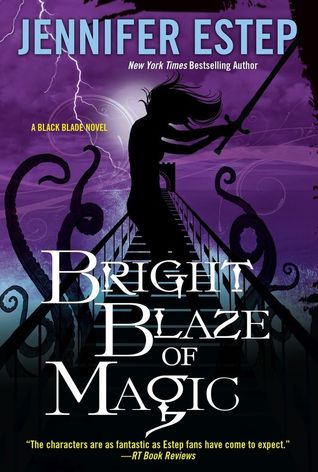 Publication Date: 26th April 2016
Goodreads | Author
Bad Things Always Come In Threes…

As a thief, I'm good at three things: hiding in the shadows, getting in and out unseen, and uncovering secrets. I put these skills to work for the Sinclair Family, one of the magical mobs that run the tourist town of Cloudburst Falls.

Everyone knows Victor Draconi wants to take over all the other Families–and kill every last Sinclair. What they don't know is that I'm on to him, and no way will I let the man who murdered my mom get away with hurting all the other people I care about. Especially when I've got places to break into, stuff to steal, and Devon Sinclair fighting right by my side…
When I see a Jennifer Estep book, I've come to just immediately associate them with awesomeness because she does not disappoint. I loved her Mythos Academy books and re-read them hundreds of times. The Black Blade series though… it's even better. They're very, very similar but Black Blade wins because its only 3 books and so it packs a bigger punch.
Estep somehow manages to strike a really nice balance between light, fluffy moments and pure death and doom. It does fall more on the lack of substance side at times but she revives it regularly with these really action packed scenes. I enjoyed it so much that I flew through the book in a couple of days. And the ending… what can I even say. The author knows how to write finales, no holds barred with all the gruesome details included. I was shocked by how far Victor took his plan. Black Blade gives off a really happy feel so I did not expect the darkness that crept into the plot.
This review will mostly be a love letter to the characters because they are such a good bunch of people. My awesome crew is back! + Deah. Can I just say I really liked Deah in this book? I felt her pain of realising her father is evil and how she's caught between the Draconis and Sinclairs. And then we have Oscar and Tiny who are the best thing to happen to this book. They are hilarious but its their loyalty to Lila that really gets me. I've fangirled about Devon before so I won't this time (even though he was so swoony). This book was all about Lila.
She kicks serious ass. She's done so in Cold Burn and Dark Heart but she's obviously been saving up her best for Bright Blaze because damn, I don't think I've liked her as much as I did after I read it. From where she was in the first book, living in the library basement with only Mo as her friend, it's just so heartwarming to see her now surrounded by so many people who love her. Plus it doesn't hurt that she's a great protagonist to read about.
If you haven't picked up this series yet, you need to. It gets a big thumbs up from me!
Keeping low, I left the woods behind and hopscotched my way across the lawn, hiding behind various trees and bushes and only moving when the guards' backs were turned. Devon and Felix followed along behind me, both of them being as quiet as possible and clutching the duffel bags to their chests to muffle any telltale clank-clanks.
Less than three minutes later, we were at one of the side patio doors. I reached up and gently turned the knob. Unlocked. How disappointing. It was no fun breaking into a mansion when your inside woman left a door unlocked for you.
But I opened the door and ushered Devon and Felix inside. I slipped in after them and locked the door behind me, just in case one of the guards decided to check it. Then I took the lead again, creeping from one hallway and staircase to the next.
The outside of the Draconi mansion might resemble a castle, but the furnishings inside were the real riches. Just about everything gleamed with some sort of gold, from the chandeliers overhead to the gilt-edged mirrors on the walls to the trim on the tables and chairs. And Victor's snarling dragon crest was painted, carved, chiseled, embroidered, and stamped into practically everything, from the crown molding that ringed the ceilings to the stained glass windows set into the walls to the white flagstones underfoot.
All those dragons were creepy enough, but it seemed like every single one of the monsters turned its head, narrowed its eyes, and glared at Devon, Felix, and me as we crept past. I shivered. Sometimes, I would have been happy not to see so well with my sight magic.
We quickly made our way up some stairs to the Draconi greenlab. Once again, the glass doors were unlocked, and the three of us slipped inside and moved through the area, which was part chemistry lab, part greenhouse, where a variety of magical and other plants were grown and harvested. The long, sharp needles on the stitch-sting bushes quivered as we hurried past them, but we didn't get close enough for the evergreen plants to lash out and try to scratch us for disturbing them.
We made it to the opposite side of the greenlab, and I sidled up to the glass doors there and peered out into the hallway beyond. The lights were turned down low in this part of the mansion, creating more shadows than not. Just the way I liked it.
Since the coast was clear, I stepped out of the glass doors and into the hallway—
I spotted a glint of metal out of the corner of my eye. Even as I turned toward it, a sword zoomed out of the shadows, heading straight for me.
Jennifer Estep is a New York Times and USA Today bestselling author of urban fantasy and paranormal romance.
Her Elemental Assassin series follows the life and times of Gin "the Spider" Blanco, a barbecue restaurant owner who also happens to be an assassin with magical control over the elements of Ice and Stone.
The Mythos Academy series focuses on Gwen Frost, a 17-year-old Gypsy girl who has the ability to know an object's history just by touching it. She studies at Mythos Academy, a school for the descendants of ancient warriors.
Her Bigtime paranormal romance books feature sexy superheroes, evil ubervillains, and smart, sassy gals looking for love.
Estep's new Black Blade series is about 17-year-old thief Lila Merriweather, who has a Talent for sight, along with the ability to take magic others used against her to boost her own powers. She tries not to get involved with the Families who control much of the town, but ends up in the middle of a potential turf war.