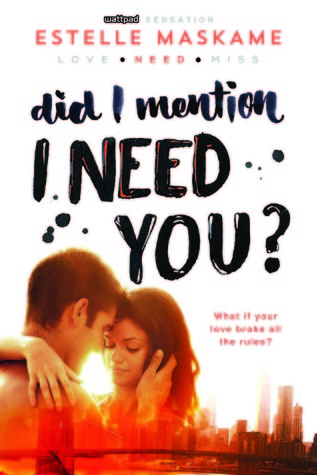 Did I Mention I Need You?

Goodreads | Author 
Publication Date: 1st March 2016
Rating: 1.5/5 bamboo sticks
It's been a year since Eden Munro last saw Tyler Bruce: her stepbrother…and secret love. Although they swore to ignore their feelings and put their family first, Eden can't help but feel excited when Tyler invites her to join him in New York City for the summer.

But it's not like anything is going to happen. Eden is happy with her boyfriend Dean, and she knows gorgeous, green-eyed Tyler must have moved on as well. But as they spend the long, hot summer in the city that never sleeps, it becomes obvious that those old feelings are still there…simmering beneath the surface. Will Tyler and Eden be able to resist temptation?
There are few things that I just hate in books. Jealous protagonists, cheating and illogical decisions are just some of them. Guess which ones were in DIMINY…
I liked the first book way  better than this one because even though Eden was kind of annoying in that one at least she wasn't annoying because she was green with envy. The number of times we get these Tyler and another girl scenes and Eden just being "WHAT ARE YOU DOING WITH THAT GIRL YOU MUST BE DATING NO DON'T EVEN EXPLAIN TO ME", I just couldn't deal with this attitude. At least let him explain if you're so in love with him.
There's a lot of those jealousy scenes but there's way more "I hate cheating on Dean but I just can't help it". Sweetie, if you hate it you can stop it. It was so obnoxious because it's so simple. Don't cheat if you don't feel right doing it. Dean is so kind towards Eden as well so no wonder she feels so guilty. On a sidenote, Tyler was also really nice in this book. Is it just me or was he not like this in DIMILY??
Taling about characters, I found the perfect gif for Tiffani: 
The plot was really weirdly paced. It was quite slow in the beginning and that's probably why it was so annoying. It focused too much on the jealousy and the cheating. I hated Eden and Tiffani. But then the end where finally something happens, I was ready for the angst to rain down. But the conflict literally gets resolved in one day, done and dusted and me sitting there feeling betrayed. Of course, everything ends the way I expected it to and it just feels like a cut and paste of the first book.
So why is it getting 1.5 stars though? It's all to do with the side characters. While the whole book is filled with bitchy, shallow female characters, we have a shining light in Emily. Even when Eden was a bitch to her (because of the jealousy) she didn't retaliate and that's what I found so interesting about her. I would love to read more about her backstory and her future life. We also get Snake in this book who was just so funny, so great.
Final Verdict: Too predictable, annoying female characters but we get 2 great characters from it at least. 
So are you planning to read it? Have you read it? What are your thoughts on DIMINY? LEt me know 😀