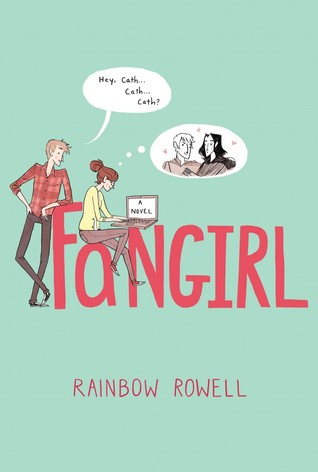 Fangirl

Goodreads | Author 
Publication Date: 10th September 2013
Rating: 3.5/5 bamboo sticks
Cath is a Simon Snow fan.

Okay, the whole world is a Simon Snow fan…

But for Cath, being a fan is her life—and she's really good at it. She and her twin sister, Wren, ensconced themselves in the Simon Snow series when they were just kids; it's what got them through their mother leaving.

Reading. Rereading. Hanging out in Simon Snow forums, writing Simon Snow fan fiction, dressing up like the characters for every movie premiere.

Cath's sister has mostly grown away from fandom, but Cath can't let go. She doesn't want to.

Now that they're going to college, Wren has told Cath she doesn't want to be roommates. Cath is on her own, completely outside of her comfort zone. She's got a surly roommate with a charming, always-around boyfriend, a fiction-writing professor who thinks fan fiction is the end of the civilized world, a handsome classmate who only wants to talk about words… And she can't stop worrying about her dad, who's loving and fragile and has never really been alone.

For Cath, the question is: Can she do this?

Can she make it without Wren holding her hand? Is she ready to start living her own life? Writing her own stories?

And does she even want to move on if it means leaving Simon Snow behind?
Fangirl was one of my most anticipated reads last year and I finally got around to reading it in the Christmas holidays when my family and I drove down to Melbourne. That's right, drove which means 7 hours of sitting, which I spent either sleeping or reading. So am I a fangirl for Fangirl? Yeah… not so much.
Fangirl points
OMG LEVI BE STILL MY HEART. He is cinnamon roll too pure for this world, honestly the sweetest guy to have ever been written in a YA book. He was just perfect for Cath and just all round amazing guy. I loved how he was really interested in Cath's fanfic and ugh just perfect.
There are a lot of different characters in this book and they're all so incredibly complex, which I appreciate. It's not just the main characters that were really interesting but the secondary characters were surprisingly well developed.
The emotions and relationships in this book were written so well. I'm definitely going to try out the other Rainbow Rowell books because damn, has she got the feels down. It's not just the romance that was written really well but the sistership between Wren and Cath and the parentalship between Cath and her dad. Just the connections between characters were so vivid and strong.
Cranky Points
Fangirl was way too hyped. I went into it expecting the most amazing book ever written but I got a pretty standard contemporary. It's unfair to judge it like that but after all the praise it's gotten, there's no way I could've felt not disappointed.
Confession: I didn't really like Cath. I felt no connection with her which was what really dragged the whole book for me. I just couldn't relate to how immature she was throughout the whole book. I get that that's what makes her her but it got to a point where I just couldn't deal with her anymore. I was just yelling at her to GROW UP!
The fanfic did nothing for the story. It just kind of interrupted the flow when it was just getting good. Doesn't mean I won't read Carry On though because I think it's a pretty good story! Also, Baz XD
Verdict: It's not a story about fandom as much as it is about Cath's fandom; her sister, Levi, her dad, Reagan… you get what I mean! It's pretty much your average contemporary read so it's still pretty enjoyable.