Christmas is next week and I've just realised I haven't done anything Christmas themed on the blog so I decided to do (what else) a book tag. Also, I just rewatched The Polar Express and was in a festive mood 😀 I saw this one over at The Girl Who Read Too Much and knowing how much I love song book tags (refer back to the Taylor Swift tag) I had to do it.
"You're a Mean One Mr. Grinch"
Name a villainous character you couldn't help but love.
I don't love any villain really. I love to hate them and that's it XD
"All I Want for Christmas is You"
Which book to you most hope to see under your Christmas tree?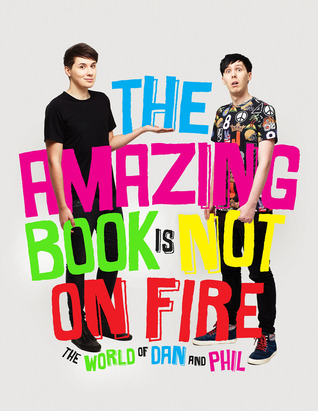 Pretty please? I would be so happy absorbing so much Dan and Phil, especially in book form.
"Rudolph the Red Nosed Reindeer"
Name a character that overcomes major obstacles and learns to believe in themselves.
For this one I'm going to say Clary from The Mortal Instruments, especially in the first three books. She might not be the best fighter of the TMI crew but she eventually becomes pretty decent and gains so much self respect from herself.
"Santa Claus is Coming to Town"
a) Which character do you think would be on the top of the naughty list?
Queen Levana, hands down. Just look at all the things she did during her reign.
b) Which character do you think would be at the top of the nice list?
The love interest from The Fill In Boyfriend because he was just the sweetest guy and him with Gia and him with his sister. (Not naming him for those who haven't read the book 😉 )
"Frosty the Snowman"
Which book just melts your heart?
Ok so this time it's a tie between Anna and the French Kiss and To All The Boys I've Loved Before.
"Feliz Navidad"
Choose a book that takes place in a country other than your own.
When do you ever read about a book set in Australia? That's my question to you question prompt.
"It's the Most Wonderful Time of the Year"
Which holiday themed book do you use to spread the Christmas joy?
The only holiday book I know is My True Love Gave To Me, which I'm in the middle of reading. I really enjoyed some of the stories, especially Rainbow Rowell's… will have to read more of her stories!
"Sleigh Ride"
Which fictional character would you choose to spend the holidays with (doesn't have to be a love interest!)?
I would love to spend the holidays with Percy Jackson and Annabeth Chase (they would stick together during Christmas). Percy would be super adorable about all things Christmas and Annabeth would be spewing out all these facts about Christmas.
"Baby It's Cold Outside"
Which book that you didn't like would you sacrifice to a fire to warm yourself up in the cold?
I Am Her Revenge by Meredith Moore. I was extremely excited to read this book and was so let down by it. I even wrote half a rant during my rage which I might post soon (or next year, or never)
"Do You Hear What I Hear"
Which book do you think everyone should read?
The Vampire Academy by Richelle Mead because it's one of the onyl vampire books I like. I know vampires are so last year but the characters in the series make it so good. And let's not forget the awesomness that is Adrian Ivashkov 😉
Christmas Song Book Tag complete! Onto the tags:
Marie @ Drizzle and Hurricane Books
Victoria @ Addlepates and Book Nerds
Kat @ Life and Other Disasters
Of course, if you want to do it, do it, even if you're not tagged (I did lol)! This tag was so fun to do and got all the songs stuck in my head… I really can't staaay~