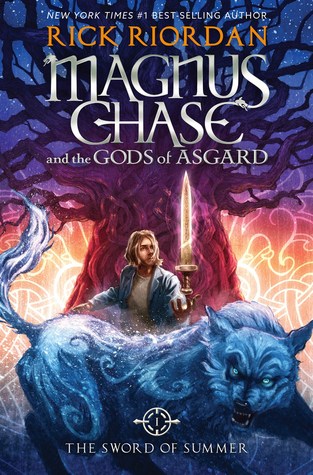 The Sword of Summer (Magnus Chase and the Gods of Asgard #1)

Goodreads | Author 
Publication Date: 6th October 2015
Rating: 4/5 bamboo sticks
Magnus Chase has always been a troubled kid. Since his mother's mysterious death, he's lived alone on the streets of Boston, surviving by his wits, keeping one step ahead of the police and the truant officers.

One day, he's tracked down by a man he's never met—a man his mother claimed was dangerous. The man tells him an impossible secret: Magnus is the son of a Norse god.

The Viking myths are true. The gods of Asgard are preparing for war. Trolls, giants and worse monsters are stirring for doomsday. To prevent Ragnarok, Magnus must search the Nine Worlds for a weapon that has been lost for thousands of years.

When an attack by fire giants forces him to choose between his own safety and the lives of hundreds of innocents, Magnus makes a fatal decision.

Sometimes, the only way to start a new life is to die . . .
After the so so feeling I got off Heroes of Olympus, I was pretty much expecting The Sword of Summer to be the same. I was most definitely wrong. Take for example this chapter title:
Hearthstone Passes Out Even More Than Jason Grace (Though I Have No Idea Who That Is
Guys, Rick Riordan just shaded one of his own characters. What other author would do that? Is that chapter not me on The Blood of Olympus? Rick Riordan is a teenage whisperer.
A lot or reviews will tell you this books is The Lightning Thief 2.0 and while it might've been like that at the start, it definitely picked up around the halfway mark. Yes, both books have a sort of quest outline, a snarky main character, modern mythology but The Sword of Summer was still surprisingly enjoyable for me and really educational. I learnt a lot about Norse mythology. It was very by the numbers but hey, I still love it.
Most of that love is all because of the characters. Riordan writes some great characters and worlds. It takes some skill to adapt myths and legends into something kids would read. In The Sword of Summer, we meet Magnus Chase who's a sarcastic 16 year old. I loved him purely because his first person POV and funny chapter titles brought me back, before the Heroes of Olympus series, to the PJO series. Riordan's wisely tried to make him a bit different to Percy by making him kind of a noob, by that I mean he doesn't really do fighting which I hope will be continued in the next books. It would be interesting to see a main character who doesn't fight. However, I do see why people saw him as Norse Percy because his mannerisms and speech are very similar. Honestly, for me I was just so happy with the first person POV that I didn't care!
I love how diverse the crew is. We have the badass axe wielding Samirah ab-Abbas who has a magical hijab. We also have Hearthstone, a deaf magic wielding elf who's been shunned from his society. While their differences were glossed over, I feel like this is a good thing. It just shows that they are no different from us and that we should treat them exactly the same as any other character.
It's very for authors to make a new series after they've already made a very successful one. I can comfortably say that Rick Riordan has still got it, guys 😀