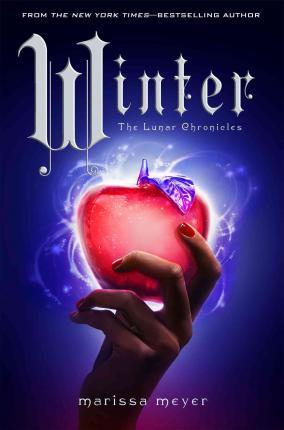 Winter (The Lunar Chronicles #4)

Goodreads | Author 
Publication Date: 10th November 2015
Rating: 5/5 bamboo sticks
Princess Winter is admired by the Lunar people for her grace and kindness, and despite the scars that mar her face, her beauty is said to be even more breathtaking than that of her stepmother, Queen Levana.

Winter despises her stepmother, and knows Levana won't approve of her feelings for her childhood friend—the handsome palace guard, Jacin. But Winter isn't as weak as Levana believes her to be and she's been undermining her stepmother's wishes for years. Together with the cyborg mechanic, Cinder, and her allies, Winter might even have the power to launch a revolution and win a war that's been raging for far too long.

Can Cinder, Scarlet, Cress, and Winter defeat Levana and find their happily ever afters?
Winter was 800 pages of tears, laughs and most importantly, feels. It was a great ending for the series and there was just so many moments I loved, which I will talk about in my next post with spoilers.
The book was surprisingly fat. When I bought it, I realised how thick it was and it did not disappoint. It took me around 9-10 hrs to read, usually I finish books much less time. It was quite draggy in some parts but it made up for it with all the plotlines and relationships. Still it was quite a challenge to read, not only because of its size but because of the plot.
Marissa Meyer writes great storylines. The problem I had with Winter is that there might have been too much plot for one book. I get it's because we have 8 main characters who all have their turn in the spotlight but it kind of just made me confused sometimes. I would not know which characters were with who, what they were doing… it was all a mess especially because none of the OTPs were really together.
The book really just brought home what made the series great: the crew. Marissa Meyer has written a great world and a great plot but she's also written some amazing characters. Here is where I have to talk about the OTPs.
Let's talk about Thorne and Cress first. They are the most adorable couple ever. At the end of the last book, they weren't really a thing yet but in Winter… let's just say I'm super satisfied. Cress was probably the most useful person on the crew with her hacking into everything and Thorne was MVP because he made me laugh so much in such a sad book. Cress really develops in this book and it makes me so proud, just to see her move from her imprisonment in the satellite to the amazing person she is in the end. (That picture on the side is so cute)
Wolf and Scarlet go through a lot. They're separated for most of the book and honestly I feel bad for both of them. I'll talk about them more in the next post because no way can I say anything without spoiling.
Newbies Jacin and Winter are great. We got to see a bit of Jacin in Cress but this book really gave him good traits. He's so caring and protective towards Winter, which is such a contrast to his cold mask he has towards everyone else. Winter is literally insane but I totally loved her. She gave the crew an edge in Luna and it really helped them.
And now we talk about Cinder and Kai. My poor babies just suffered so much and they weren't together most of the time. I can say that I'm really happy with how the story ended for them. More on them later.
I'm devastated that the series is finished but I'm so happy that it ended so well. Winter is a bit long for me but it's one pretty epic finale. Fireworks and happy ever after included.