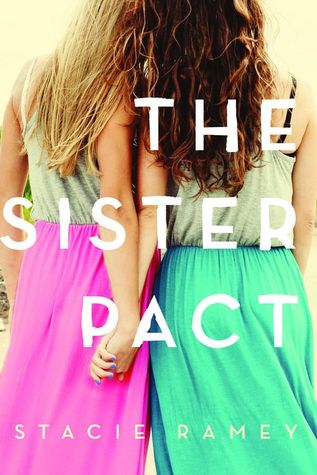 The Sister Pact

Goodreads | Author 
Publication Date: 3rd November 2015
Rating: 3.5/5 bamboo sticks
Big thanks to Sourcebooks Fire for sending a copy via Netgalley
A suicide pact was supposed to keep them together, but a broken promise tore them apart

Allie is devastated when her older sister commits suicide – and not just because she misses her. Allie feels betrayed. The two made a pact that they'd always be together, in life, and in death, but Leah broke her promise and Allie needs to know why.

Her parents hover. Her friends try to support her. And Nick, sweet Nick, keeps calling and flirting. Their sympathy only intensifies her grief.

But the more she clings to Leah, the more secrets surface. Allie's not sure which is more distressing: discovering the truth behind her sister's death or facing her new reality without her
Honestly, I wasn't feeling this book when I started reading it but in the end, it was worth it. My notes straight after reading it:
Amazingly depressing, I don't know if I like this book. It's poignant but sometimes it falls flat and is boring. It was interesting to see Allie come into her own identity that's undefined by her sister because we all want to be our own person but all too often don't see ourselves as ourselves.
That's the understandable part of my notes, they kind of trail off after that 😀 Don't let the cover fool you, this book is a sad one.
I read this more than 2 months ago so I don't remember much but I remember being really happy with how it ended. We meet Allie in a low point of her life. I hated everyone else in this book from her "friend" Max who strings her along and especially her sister Leah, who even dead still holds so much power over Allie. I got so frustrated with them.
But why should you read this book?
Allie is obviously the doormat in her life. It's really frustrating to read about because she doesn't do anything but eventually she becomes her own person. The Sister Pact is brutally realistic and really delves into the issues. It's not an easy book to get through, but it's definitely a satisfying one.
I loved the hallucinations because it let us see Leah and hear her for ourselves. I think she was a very interesting character and the perfect contrast to Allie. Still hate her but in the end, she becomes a bit better. The whole doormat thing was really thought provoking because it's kind of relatable. Everyone wants to be their own person but there's no doubt we're shaped by other people. The whole book dealt with interesting and complex issues and they were really examined well.
Anyway, The Sister Pact is a great debut book. Looking forward to seeing what else this author puts out!
TL;DR – Tough to read but ends on a high note