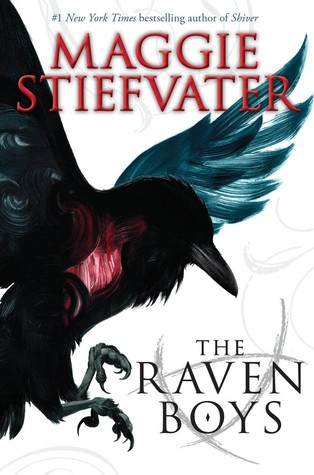 The Raven Boys (The Raven Cycle #1)

Goodreads | Author 
Publication Date: 18 September 2012
Rating: 4/5 bamboo sticks
"There are only two reasons a non-seer would see a spirit on St. Mark's Eve," Neeve said. "Either you're his true love . . . or you killed him."

It is freezing in the churchyard, even before the dead arrive.

Every year, Blue Sargent stands next to her clairvoyant mother as the soon-to-be dead walk past. Blue herself never sees them—not until this year, when a boy emerges from the dark and speaks directly to her.

His name is Gansey, and Blue soon discovers that he is a rich student at Aglionby, the local private school. Blue has a policy of staying away from Aglionby boys. Known as Raven Boys, they can only mean trouble.

But Blue is drawn to Gansey, in a way she can't entirely explain. He has it all—family money, good looks, devoted friends—but he's looking for much more than that. He is on a quest that has encompassed three other Raven Boys: Adam, the scholarship student who resents all the privilege around him; Ronan, the fierce soul who ranges from anger to despair; and Noah, the taciturn watcher of the four, who notices many things but says very little.

For as long as she can remember, Blue has been warned that she will cause her true love to die. She never thought this would be a problem. But now, as her life becomes caught up in the strange and sinister world of the Raven Boys, she's not so sure anymore
Dear Raven Boys, 
Our relationship started at a rocky place. It was definitely not love at first sight. I've read other Stiefvater books (Lament and Shiver) and just get through them because they were just crap. In the beginning, you were no different. I thought you were horribly slow and boring while you must have thought that I was impatient. My friend kept singing your praises and I had no idea why. Basically you were just really wordy but uninteresting and I could sum you up in 3 dot points flat.
Then came the second half.
Suddenly, you were just the most amazing book I've ever read. How you turned from the most boring read to the best, I don't know but I do know that your wordiness grew on me and made me want more of it. Your descriptions of everything from the characters to the setting of that place that has a name but I don't remember it.
The characters especially were great in the second half. I totally found myself adoring Ronan and Adam and totally shipping them together. I would've never kept on reading if it wasn't for Pynch. I'm already aboard that ship. Then there's Noah who's pretty much as awesome as Ronan and Adam. Let's not forget Gansey who's awesome because his name is actually Dick so yep, great character and Blue who is… well ok, I didn't care for Blue as much as the Raven Boys.
You were especially amazing because although you have a romance/romances in the plot, but it didn't have the carry the whole thing. I find that in YA, romances are basically a cornerstone and I guess, RB, that you had this too but for you it simply just enticed me into reading you where you then snared me with your amazing world. The whole concept of ley lines and Glendower and psychics really drew me in.
I honestly can say I can't wait to see you again as The Dream Thieves because Ronan. Also, Adam. Also, Ronan and Adam together. PYNCH!!!
Love, Prima