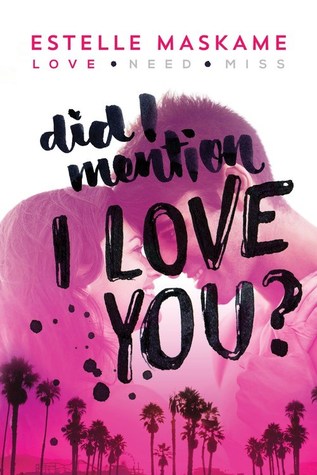 Did I Mention I Love You (The DIMILY Trilogy #1)

Goodreads | Author 
Publication Date: 1st December 2015
Rating: 3.5/5 bamboo sticks
Shoutout to Sourcebooks Fire for providing me a copy via Netgalley.
When sixteen-year-old Eden Munro agrees to spend the summer with her estranged father in the beachfront city of Santa Monica, California, she has no idea what she's letting herself in for. Eden's parents are divorced and have gone their separate ways, and now her father has a brand new family. For Eden, this means she's about to meet three new step-brothers. The eldest of the three is Tyler Bruce, a troubled teenager with a short temper and a huge ego. Complete polar opposites, Eden quickly finds herself thrust into a world full of new experiences as Tyler's group of friends take her under their wing. But the one thing she just can't understand is Tyler, and the more she presses to figure out the truth about him, the more she finds herself falling for the one person she shouldn't – her step-brother.

Throw in Tyler's clingy girlfriend and a guy who has his eyes set on Eden, and there's secrets, lies and a whole lot of drama. But how can Eden keep her feelings under control? And can she ever work out the truth about Tyler?
YES! – I really did enjoy the characters after the introduction. Eden was a wannabe hipster for the first few chapters but after that, she was actually quite an interesting character. It was obvious she had body image issues and I feel like this book could've been so much more in that aspect. Tyler was also a really intriguing character. He was your brooding bad boy but with a really great backstory. Can I just say I was expecting to hate this book but in the end, it had that something that made it really enjoyable.
But… The other characters were quite flat with her friends being just really shallow and the guys just there for some eye candy. Honestly, I hated Eden's trio of friends because they had no personality behind the popular girl trope. I find this is a really common thing in Wattpad books which made sense because DIMILY was a Wattpad book before it was published.
What? – Do these kids just party all day? All that happens in the story is partying, getting drunk and all that stuff. No way does a normal teenager do that every single night. I mean I'm a teenager and the craziest I get on a summer night is staying up till 2am or something
NO! – to that half- assed love triangle, why was it there? It basically got suddenly wedged into the last few chapters and in the sudden epilogue. I already hate love triangles but this one was just like why is it there? Also, in the last few chapters there's was this moment where I just couldn't believe how dumb Eden and Tyler were… just because someone says something doesn't mean it's true.
Cover love – I just love handwritten text on photos especially if its done in marker. It's just so aesthetic. It kinda reminds me of the pink Anna and the French Kiss covers in a way, which I loved.
My honest thoughts on Did I Mention I Love You. Wow, that's a super long title. Anyways, tell me what you thought about it or if you're planning to read it!