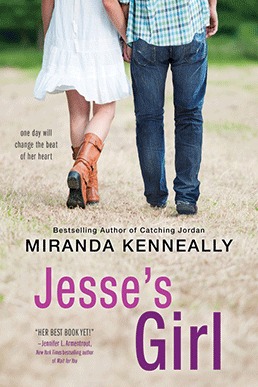 This song goes out to Sourcebook Fire and Netgalley who provided me with an eARC. This one's for you guys.
Jesse is a friend, yeah I know he's been a good friend of mine. 
Well, the Jesse in this book was just awesome. He may have acted all bad boy on the outside but he really was just a sweet guy. Miranda Kenneally just writes these amazing guys that you can't help but fall in love with.
But lately something's changed, it ain't hard to define. Jesse's got himself a girl and I want to make her mine. 
And if I were a guy, I would totally want Maya. I already have a girl crush on her as it is. She's a total badass and looks fashionable while doing it.  Maya's drive to reach her dreams was inspiring to me. She was also the person who takes no bullshit. She had me from when she walked out on our rockstar as he was being a jerk. You go girl!
And she's watching him with those eyes. And she's loving him with that body, I just know it. And he's holding her in his arms late, late at night. 
Can we just talk about the romance? Wow what a ride it was. I loved how well Maya and Jesse clicked. They really complemented each other so well and the way they supported each other was just so heart warming. Not to mention their dates were super adorable!
Of course, we get to see a bit more of Jordan and Sam from the first book and they are just so adorable. I love how Sam was just the best big brother to Maya.
You know I wish that I had Jesse's Girl. 
And you should too, because it really is amazing. It brought back my love of the series after the sorta ok Racing Savannah, back to Things I Can't Forget when it was based on teenage problems and feels.
Where can I find a woman like that?
I guess at a bookstore? Anytime after 7th July 😉
So, let me know how you're feeling about Jesse's Girl and when you've read it, tell me your thoughts on it!