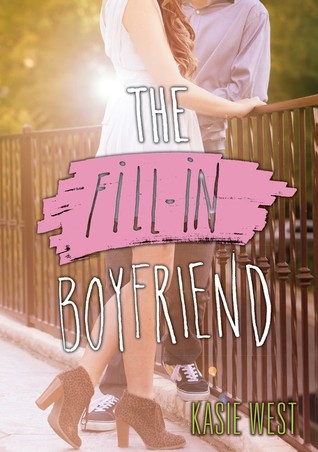 Dear The Fill-In Boyfriend,
I wrote you 365 letters. I wrote you everyday for a year.
You: You wrote me?
Well not really. I only added you onto my Goodreads list last November.
Where do I even start to explain my deep emotions for you. I went in expecting a cute Kasie West book but came out with so much more. You've given me so much and made me reflect on my own life. Now all I can give in return is my thanks.
Thank you for being so adorable and cute. Remember that scene where Gia and fill in Bradley where playing Twenty Questions with her trying to guess his real name? That was scene  where I realised I was gonna fall in love you and then did. You can't blame me, I mean how could you. You were just so likeable with characters that just came out of nowhere and punched me right in the heart.
I thought I was gonna hate Gia and I thought that would have been a deal breaker in our relationship. But then the development came and she turned out to be an awesome character. She went from being your cookie cutter popular chick to becoming someone with depth. To becoming someone who went out and found that depth. Literally. Who could forget the Cleopatra moment?
You're also pretty awesome because of fill in Bradley. He's just genuinely the nicest guy and that's great. The book universe is filled with jerks and we really don't need to add more. Fill in Bradley was perfect and his sister… just so cool. Let's not even mention his amazing mum. Yeah, I just said amazing mum.
Maybe I got second hand high from the last book I was with. I mean, you're both so similar. You're both contemporaries, you both are adorable. But while they had slight flaw I feel like you have none. And that's why you have my everlasting love.
Prima