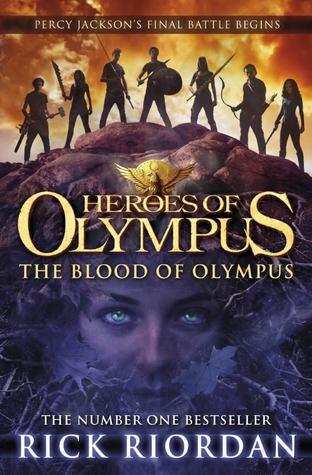 "You're a Gemini? Like star signs? I'm a Leo."
"No stupid, I'm a Leo! You're a Percy!"
– Percy and Leo
And there you have it folks! A great ending to an amazing series. It was emotional reading this, it really was. Don't let that funny little quote fool you, the book isn't all full of sunshine and rainbows, though I wish it was. Our heroes really go though a lot of crappy situations but I loved seeing them grow from The Lightning Thief to The Lost Hero to now. And then the ending is such a cop out. Ugh so many feels.
Can I just talk about how physically awkward it was to read this book? Like when you hold the book up it's physical torture on your hands because IT'S A GIANT BOOK. I mean, I just lying in my bed trying to read and it's just so hard to get into a comfortable position with the book. Ok, back to actual reviewing.
Really the only thing that could make this book better is more Percy, more Percy, more Percy. I don't give a crap about Jason but guess who we get more in this book. Well , if you pick Jason then you're right. I don't even get why Jason is even still alive. He literally gets knocked out every fight. Well, at least he's useful in the final battle. If he got knocked out during that one, I would have personally gone into the book, into Camp Half Blood and just slayed him with my celestial bronze sword. Seriously Percy is an eternal 12 year old stuck in a 18 yr old body. How can you not want more of him?
Except for him, I really loved all the other characters especially Leo and Nico, Leo because he is hilarious and Nico because he the tormented soul. Both bring so much to the Argo team and really if they had to budget cut or something of the sorts, these two will definitely not be the ones going. Leo has his amazing mechanic skills and Nico has the power to raise the dead and sheer bravery to do that. Really we all know who the stars of this book were and let me give you a hint, it's not Jason.
I think Rick Riordan is just an amazing writer. He's able to integrate so much action with so much humour and integrity. I think it's what drew us all to read his books, the little humorous twist on Greek myths which are all too often portrayed with gore and pure violence. Mr Riordan just breathes life to the myths and makes them so delightful to read about. There's this scene where the Romans are beside the Greeks and the Romans have this fancy going into battle phrase. Then Percy is sort of like "Yeah! Let's um… fight stuff!" and my heart is just melting.
So this book, yeah it's got it's flaws, but it's so well written and just such a pleasure to read. Really enjoyed reading it up until the sort of disappointing end but it's the finale so I can half excuse it. Goodbye my dear friend, you will be missed.