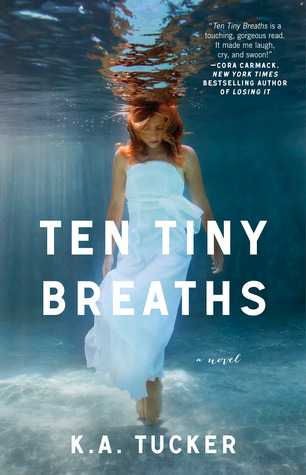 Series? Ten Tiny Breaths #1
Published? 11 December 2012
And by who? Papoti Books
Genre tags: NA, romance
The Gist
Ten tiny breaths. Seize them. Feel them. Love them
Kacey lost her parents, best friend and boyfriend in a single car crash that changed her life. Since then, she's had a hard time with her life. A pervy uncle assaulting her sister. Moving to Miami into a old disgusting apartment. She can handle all of that. What she can't handle is the beautiful dimpled smile and blue eyes of her neighbor in apartment 1D who just wants to make her happy.
Guys, guys. I think I have found the next Fault in Our Stars. Ok well, it's totally different but it gives me the same feels. Both deal with the realisation of life and how to enjoy and savour each minute.
Yes to
Beautiful writing – By that I mean how lyrical everything just sounds. It keeps you invested in the book. I was crying by the end because it's an emotional whirl.
Great Characters – Everyone is so different. We've got tough nut Kacey, her angelic sister, kind hearted stripper Storm and, of course, hero Trent. I loved literally everyone because they were so faceted and just so real
Easy read – It's hard to have such a deep subject and make it so easy to read. It's filled with pain yet it doesn't leave you sad. It gives you hope and inspiration.
No to
Typical NA style – Which I know clashes with everything I said for the yes points but the thing is, I'm a sucker for stories like these. I know logically that it's got the same formula as other NA books. Heroine has gone through a scarring experience, meets a boy who helps her through it along with some other awesome side characters, resolves scarring experience. But, my heart is literally just weeping from the beautifulness of this story and heart always wins in book feels.
Rating: