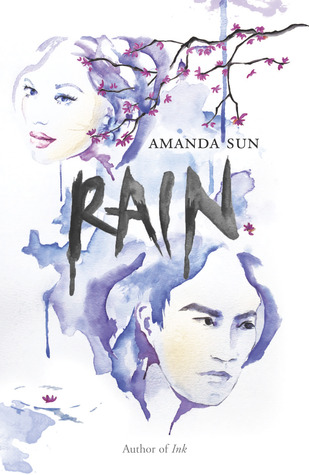 Paper Gods #2. Coming soon: 1st July 2014
The Gist: 
The ink hasn't forgotten about Katie and Tomohiro. It keeps haunting them with strange messages and sketches that has their lives spinning out of control. Katie goes to Jun for help and she realises Tomo's dark ancestry is lurking closer everyday.
The Thoughts:
Checking Netgalley: YES NOW I CAN READ!!! Thank you Harlequin TEEN!!!
Before reading: YES THE COVER ART!!! SO PRETTY.
First and second chapter: YES MORE CUTE KATIE-TOMO MOMENTS…
Second chapter: I am so not prepared for the onslaught of feels. Be steady my heart.
And that was true for the whole book. Tomo was just such a heart slayer with his suave adorableness. His lines in Rain… so smooth. He has a very tortured story line in this book and I was glad that he still had the strength for humour. It was a very emotional book because what he's going through is really tough. I was really engaged in his story which sort of takes me away from Katie. But she didn't feel boring at all because of all her struggles which are much more realistic. She's having trouble learning Japanese, being there for her boyfriend and dealing with her own ink problems.
Now let's get onto the real reason of this review: Katie and Tomo together. The comments I wrote up there were technically the feels I got from reading the first two chapters. Now multiply that by like 10 and you get how I felt reading the whole book. It was great. I loved it.
I honestly think that this book has no faults. I know though that there are and if I had to name one, it would probably be the secondary characters. They feel very bland and they're just not developed much. But this book focuses a lot on Katie, Tomo and Jun so I feel like it doesn't matter.
Ms Sun manages to integrate Japan into the story so well, yet again! Not only is is based on Japanese myths but the everyday things are in it too. From the bowing to the formal words, it just puts us right in Japan. When Tomo and Ishikawa were called "the two with the anime hair", I burst out laughing. Most anime characters have dyed hair and the guys both have dyed hair. It's these little touches that really bring the world to life.
A big thing this series has to offer is its visuals. There's not only that gorgeous cover but inside there's these beautiful ink like pictures that just strengthen the world building so much. I'm pretty sure the cherry blossom/sakura petals on the side create a flipbook effect. Ugh, I want this in hard copy. I'll probably just keep re-reading it and staring at the pictures and the cover. And squealing at all the romantic stuff. Ok, I need to buy it. I don't know how I'm gonna deal with this series finishing next year.
Rating: 
The Paper Gods Series:
The Other Stuff:
So I got really interested in the meanings of the characters' names and did a bit of online translating:
Yuu Tomohiro (勇智宏) – so from what I research his last name means bravery and his first is something like very wise (it's technically large wisdom)
Watabe Yuki (渡部雪) – I'm pretty sure her last name doesn't mean transport department.. maybe migrate? Pretty sure from my  limited Chinese knowledge is that her first name means snow (it's got the character meaning snow)
Tanaka Ichirou (田中一郎) – Ok no his last name can't mean middle of a rice paddy but OMG DOES HIS FIRST NAME MEANS FIRST SON? IS HE THE FIRST SON?
Ishikawa Satoshi (石川智)- Last name: stone and stream? How does that work together? First name: Katie does the research for me – wisdom