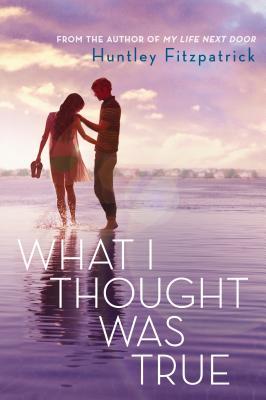 Standalone, Published April 2014
Read This: if you're looking for an easy, summer filled read.
The Gist:Well here's a story about an island girl, a rich boy and a summer romance that becomes forever. When Cass Somers comes back to Seashell Island to work as a yard boy, Gwen Castle discovers the secrets of her home and gives us the tale of struggling to find out the truth.
So it took me a while to get into this book. The beginning was a bit rough for me. Nothing made sense because there was this mysterious back story kind of thing going on. That's not cool, ok, because it's kinda like when people talk about gossip and you sort of know who and what they're talking about but they won't tell you outright. All you really want is to be in on the
gossip and be into it. Second half got better though when everything is revealed. We finally know what Cass did to Gwen which, well, I don't blame her for being mad.
There are very interesting characters from this book. I found the older characters to be much more interesting actually. I mean, when I'm a grandparent I hope I'm as awesome as romance novel reading Mrs Ellington or as cool as Grandpa Castle.
That being said I feel like the characters were really similar to the ones from My Life Next Door. Cass is a very Jase like character. He might be the total opposite in some ways but their personalities are the same. They're both the kind, white knight kind of guys. Then of course, there's that one character I can never like and here's why. The what a Bitch award goes to: Nic for being a bitch about not getting swim team captain and then going on this whole rant about how only rich people get things. I'm sorry but that whole attitude of his was just so irritating and he kind of reminded me of Tim form My Life Next Door because they both have a similar kind of feel.
I think what made this book less appealing was the over all feeling of "Hey, I swear this is the same book!". It has a very flowy, breezy kind of writing that gives us a look into an everyday person's life. It just didn't draw me in as much as the first one did. It did find itself in the end though with those profound life discoveries. This one hit me pretty hard:
"Suddenly, you edge your way to the end of your second ten years and BOOM. Your choices matter. Not chocolate or vanilla, bridge or pier, Sandy Claw or Abenaki. It's your whole life. We're suddenly this close to the wrong move"
It's a very reminiscent quote which is what this book does best. It looks back into the character's past and uses it to better their present. That's probably why I preferred the second half because that's when everything is told and found and it's beautiful.
Rating: 3/5 bamboo sticks
Related Reviews: