As always hosted by The Broke and The Bookish. This week it's the prettiest covers edition. For me this means bigger images of covers and a new post header (what do you think?). When I think of pretty covers I immediately think of one book. So obviously: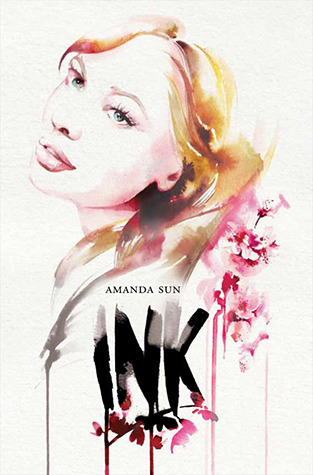 1. Ink by Amanda Sun
-makes it onto my list and since it's the cover I personally love the most, it gets a bigger picture. Ink's cover was literally what drew me to it. The use of watercolours and the textured background is just just gorgeous. If I could find it as a poster, I would definitely buy it… well considering the price of course.
2. Halo by Alexandra Adornetto
The story might have been as dumb as hell but it sure has a beautiful cover. I mean, that lens flare is so good.
3. Angelfall by Susan Ee
This is a book I haven't read yet but I've seen a lot of reviews saying great things about. Well I know one thing for sure though, the cover is great.
4. Amy and Roger's Epic Detour by Morgan Matson
The sunset colours and that curly font :3
5. Wither by Lauren DeStefano
There's something really enchanting about this cover in how it looks very cold and analytical with the circles and lines but still has a soft edge about it with the frilly dress and blown out hair.
6. The Juliet Spell by Douglas Rees
Another one I haven't read that has an awesome cover. This cover really appeals to me because it looks really simple but the touches of pink really make it pop and the slight blurring of the image at the bottom really puts us in the scene of the photo.
7. Cinder by Marissa Meyer
This is the Spanish version of Cinder if I'm not wrong. I've been obsessed with the cover ever since it came out. It just represents the book so well. It's perfect as a cover and is stunning.
8. For Darkness Shows the Stars by Diana Peterfreund
I don't normally like such a cover that has only a model but this one… just look at that background. The font used is also just really pretty.
9. Black City by Elizabeth Richards
Do I even have to say anything?
10. These Broken Stars by Amie Kaufman and Megan Spooner
Again, do I have to say anything?
So my top ten were really hard to pick and I had a few that I left out. You know what I'm just gonna put a few more as extras:
I haven't read any of the four above except for A Long Long Sleep. So what are your top ten? Maybe it's one not on my list. Comment your thoughts below!